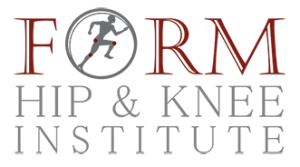 The hip joint lies between the femur and the acetabulum socket of the pelvis bone. The hip is responsible for supporting the body, and maintaining balance while standing, walking, or running. The hip has five major muscles surrounding it: the gluteals, the hamstrings, the quadriceps, the iliopsoas, and the groin.
Common hip conditions include:
Hip Osteoarthritis
Hip Bursitis
Hip Fractures
Hip Dislocation
If you are experiencing any of the symptoms listed below, it may be time to meet with one of our expert hip specialists:
Limited range of hip motion
Stiffness after long periods of sitting or lying down
Hip Swelling or hip tenderness
Grinding sensation in your hip
Steady hip pain
Hip pain and injury can be caused by a variety of factors such as a trauma, inflammation, bruising, contusions, or even pregnancy, so it is important to be diagnosed properly in order to receive the correct treatment. Treatment can include medication, physical therapy, and stretching. If surgery is required, hip replacement surgery, hip resurfacing, or hip arthroscopy may be recommended.
Dr. John Jaureguito is a board-certified Orthopaedic surgeon who specializes in sports medicine and the successful treatment of hip pain. Dr. Jaureguito's specialties include arthroscopy and joint replacement surgery. Please call 510.739.6520 to schedule an appointment.
Dr. Masi Reynolds is a fellowship-trained orthopaedic surgeon specializing in sports medicine and minimally invasive arthroscopic surgery of the knee, shoulder, hip, and elbow. Please call 510.739.6520 to schedule an appointment.