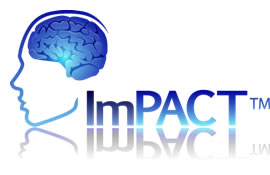 Concussion testing and treatment is an important part of the Sports Medicine Program at FORM. Concussions can be difficult to diagnose, so in the event of an injury, a neuropsychological test is necessary to make an informed "return to play decision," Proper pre-participation physicals that include an ImPACT baseline concussion test are necessary to ensure the safety of the athlete.
How do sports related concussions occur?
Sports-related concussions can occur with a bump or jolt to the head during any sports-related activity. The most common initial symptom is a change in the athlete's behavior. Athletes suffering from a concussion may also exhibit an inability to think or function (e.g. forgetting simple instructions). Concussions don't necessarily result in a loss of consciousness. The Center for Disease Control estimates that a total of 1.27 million people suffer from concussions annually; the groups at highest risk for concussions are children 0-4, teens 15-19, and people over the age of 65.
What sports are at risk for concussions?
It is estimated that 1 in 10 high school athletes will receive a concussion in the upcoming fall season. The American Academy of Pediatrics classifies these sports as contact or collision sports:
Basketball
Boxing
Diving
Field hockey
Football
Tackle
Ice hockey
Lacrosse
Martial arts
Rodeo
Rugby
Ski jumping
Soccer
Team handball
Water polo
Wrestling
What is ImPACT?
ImPACT has become the standard in concussion testing for athletes of all ages. This test can be used to evaluate the athlete's post-injury condition, and track his or her recovery to allow a safe "return to play."
ImPACT is part of a thorough high school physical prior to the start of the season.
It is recommended that high school athletes receive a baseline test during high school physicals to test their memory, attention span, and processing speed. The concussion baseline test only takes about 20 minutes to complete. Through the use of this test, the athlete has a personal report that can be used to determine an individualized "return to play" plan should an injury occur during the season.
To learn more or schedule a baseline concussion test, please call us at 510.739.6520.