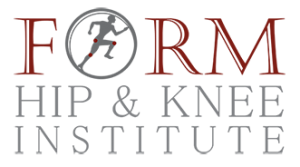 Joint pain and immobility can interfere with your ability to lead an active lifestyle. Millions of Americans have cartilage damage that can be the cause of the knee & hip pain they are experiencing. Cartilage damage in joints can occur from an injury, osteoarthritis, or normal "wear and tear."
The FORM Hip & Knee Institute was created to offer the latest state-of-the-art techniques to treat joint damage. Recent advancements in the field of joint replacement surgery allow our surgeons to provide improved outcomes and less downtime for patients.
We believe in a personal approach to joint health. Our surgeons take the time to understand each patient's unique joint problems, and create a personalized treatment plan that fits their symptoms as well as their lifestyles. There are non-surgical options that should be explored, and our surgeons consider the more conservative treatments before joint replacement surgery.
Non-surgical options for knee & hip pain include:
PRP (Plasma Rich Protein) Injections
Cartilage Regenerations
Physical Therapy
Knee & Hip Resurfacing
Partial Joint Replacement
Osteotomies
Knee & Hip Arthroplasty
If you have had a total joint replacement and are having pain, our surgeons are experts in total joint revision surgery.
Cartilage damage in your joints can result in one or more of these symptoms:
Limited range of motion in your joint
Joint stiffness after long periods of sitting or lying down
Joint swelling or tenderness
Grinding sensation in your knee, hip, or shoulder
Steady pain in your joint
If you are feeling any of these symptoms, contact our office to schedule an appointment today.