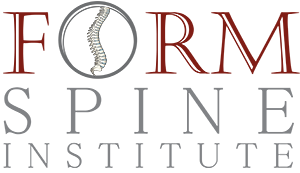 Roughly 9 out of 10 Americans will experience back pain at some point in their lives. It may be a simple muscle strain or it could cause chronic pain from a herniated disc or degenerative disc disease. Either way, back and neck pain can have a profound impact on you daily life. If you are one of the millions of adults who suffer from back pain or a spinal condition, the FORM Spine Institute can help.
The FORM Spine Institute is a Center of Excellence for spine disorders. We offer comprehensive treatment and rehabilitation in one convenient location. Our goal is to alleviate the pain that has been hindering you from leading the full life you deserve. Our team includes board-certified and fellowship-trained surgeons, friendly nurses, highly skilled therapists, pain management specialists and anesthesiologists.
The FORM Spine Institute advocates a conservative approach by prescribing physical therapy and other techniques that have a record of success, and can reduce the need for surgical intervention.If surgery is required, our team of world class specialists use minimally invasive techniques that minimize downtime and preserve muscle function.
The FORM Spine Institute Offers:
Board-Certified Physicians in Nonsurgical & Surgical Treatment
Multi-Disciplinary Care with Team-Based Focus
Dedicated to Patient Education & Compassionate Care
Conservative Approach to Back & Neck Pain Treatment
What causes neck and back pain?
There are several 'pain generators' that can cause neck and back pain. Whether your neck and back problem is due to posture, muscle strains, sports injuries, nervous system and/or inter-vertebral discs, our team is equipped to help you.
The most conservative treatment options possible are personally designed for each individual. In most cases, your symptoms will improve with the initial treatment plan; however, if changes are indicated, you will be constantly updated on your progress and next steps.
When should I see a spine doctor?
If you are having pain similar to the types listed below, it may be time to visit a spine specialist.
Back pain after trauma, such as a car accident or a fall off a ladder
Constant back pain that seems to get worse
Back pain longer than 4-6 weeks
Pain is not alleviated by ice, rest, or common pain medications (Tylenol, Ibuprofen)
The pain is worse at night
Pain that wakes you up/keeps you up at night
Abdominal pain in addition to back pain
Numbness or altered sensation in upper inner thighs, groin area, buttock, or genital area
Weakness, numbness, or tingling in the legs or arms
Treatments FORM Spine Institute offers:
Chiropractic Care
Acupuncture
Medication
Injections
Spinal Cord Stimulators
Physical Therapy
Operative Treatment
Wellness Programs
If you are feeling neck or back pain and would like to book an appointment with one of our specialists, please call 510.585.2540.